Tabletop
Whats New:
2016 / 2017 EOP Update has been completed and approved by IEMA for a two year period, update due by December 2018
City of Salem Department of Emergency Management now has Nixle. Sign up Now www.nixle.com
Upcoming Events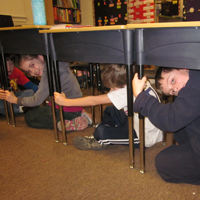 Get Ready To Shakeout! Drop, Cover, and Hold On was held at 10:19 a.m. on October 19, 2017 during the Great ShakeOut Earthquake Drill www.shakeout.org
Recent Events:
Great Central U.S. Shakeout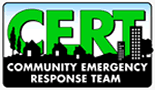 The City of Salem Emergency Operations Plan (EOP) has been reviewed and approved by IEMA R9 Office. 12/12/2016 Next update due December 31, 2018
Two major structure fires occurred in Salem on September 25 and 27, 2015. Several area fire departments assisted Salem Fire District, Marion County EMA, City of Centralia EMA assisted Salem EMA. The City of Salem was accredited a Full Scale Exercise with this event.
Salem Emergency Management along with Salem Police Department participated in the "Operation Wildcat" State Weapons of Mass Destruction Team Full Scale Exercise-MSEL- on December 7-8, 2016
Public Safety Night was held at the Marion County Fair on Thursday August 3, 2017. City of Salem Department of Emergency Management participated with vehicles and information table.
City of Salem participated with the IEMA Region Nine Earthquake Drill held on July 19, 2017
A Nixle Alerted Community, SIGN UP NOW for Nixle Salem Alerts at
www.nixle.com
The purpose of the Tabletop Exercise is to provide a forum for participants to evaluates plans, policies and procedures; examine management planning and resources allocations; and resolve situations requiring coordination and assignment of responsibilities in a non-threatening format with minimum stress. The tabletop exercise provides an environment where elected or appointed officials and key agency staff may interact with constructive discussion as they attempt to resolve problems related to emergency operations, coordination and response. Participants are encouraged to discuss issues in depth, develop decisions through slow-paced problem solving rather than rapid spontaneous decision-making such as occurs under actual or simulated emergency conditions. Tabletop Exercises are particularly valuable to achieve limited objectives involving critical policy issues or for developing or refining procedures such as those for obtaining mutual aid from neighboring jurisdictions. They are equally useful for familiarizing agencies or individuals with specific role or potential role conflicts, examining specific elements of a new plan or procedure or to examine specific conditions or problems that represent a high risk condition within or between jurisdictions. These limited objectives are normally scenario oriented in the Tabletop Exercise and progress of the exercise is tightly controlled to preclude deviation to tangential subject areas so the stated objective of the exercise can more likely be achieved. Note that an Exercise, (Table Top, Functional or Full Scale) is required every two years.
On December 13, 2007, City of Salem Department of Emergency Management held their Tabletop Exercise. Illinois Emergency Management Agency Region Nine Office Conducted the exercise. The Scenario was a school shooting at Salem Community High School.
On November 12, 2009, City of Salem Department of Emergency Management Held their bi-yearly required Tabletop Exercise. Illinois Emergency Management Agency Region Nine Office was present to evaluate the exercise. The Scenario was an F2-3 Tornado and Flooding.
Functional Exercise was held on Oct, 17, 2011. This exercise tested the EOC and Unified Mobile Command. Equipment from Robinson and Mt. Vernon was used also during the exercise.
A Table Top Exercise was held on August 28, 2014. The exercise tested was an Earthquake. Magnitude 7.7 approximately 24 mile near Blytheville, Arkansas. This Salem Illinois Region received significant damage, injuries and fatalities.
Salem had two major structure fires in September of 2015 within three days. The City of Salem was given an accredited FULL Scale Exercise with the two combined fires.
Salem participated in the Region Nine Earthquake Table Top Exercise on July 18, 2017 in Flora IL.
The following participate in the exercises.
Salem Emergency Management
Salem City Manager
Salem City Manager Assistant
Salem City Clerk
Salem City Finance Director
Salem City Public Works Director
Salem City Police Chief
Salem City Police Communications Leadsman
Salem Fire Protection District Chief
Salem City Recreation Director
Salem Township Hospital
Marion County 911 Coordinator
Marion County Public Health Department
Marion County ESDA Director/LEPC Chairman
Illinois Emergency Management Agency
Central and Southern Illinois American Red Cross Chapter.
Both WJBD Radio and Salem Times Commoner released media reports of the exercise.
Use of the EOC Smart Board was very beneficial during exercise.
Pictures of past Table Top Exercises.